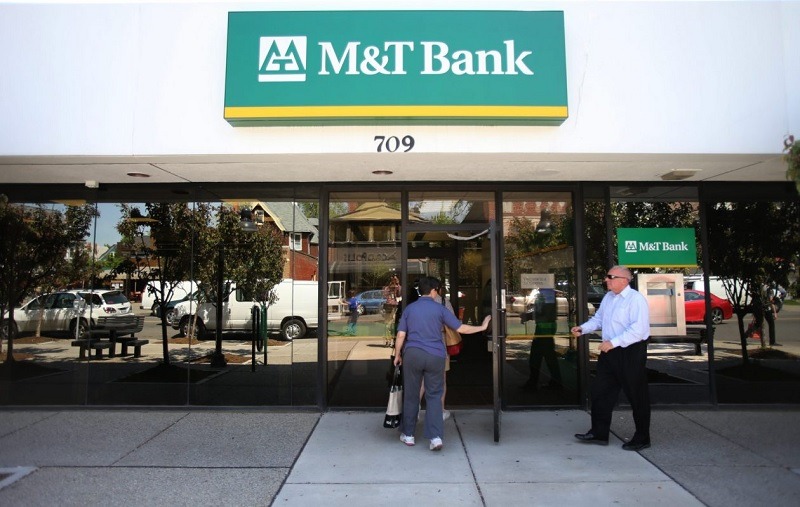 Located in the upper East Coast region, M&T Bank offers a variety of free accounts! To find out if M&T Bank is right for you, continue reading this review below.
M&T offers several FREE checking accounts that comes with exclusive benefits as well, so, if you are looking for a checking account that doesn't require any minimum opening deposit, then you may be interested in banking with M&T!
Checking Accounts
Each checking account comes with an M&T chip reading debit card, access to online and mobile banking and alerts.
EZChoice CheckingMyChoice Plus CheckingMyChoice Premium CheckingBasic Banking
This checking account doesn't earn interest, but it is completely free.
This account doesn't require a monthly fee nor a minimum balance either so anyone can open it.
You can gain access to a Relationship Savings account as well when you apply.
This checking account does earn interest, but it requires either a minimum monthly balance of $2,500 or have monthly direct deposits totaling to at least $1,500.
You don't have to pay any monthly service fees either when you use a non M&T Bank ATM, and M&T Bank will refund any charges you make with another ATM.
You can also have access to discounted loan rates.
This checking account earns high interest being a premium one, but you need to maintain a monthly balance of $7,500 or an overall balance of $25,000 in direct deposits.
This account also allows:
Access to a MyChoice Money Market account completely free of charge
Access to a Safe Deposit Box
No Fees for incoming wire transfers whether domestic or foreign
This checking account is for everyday use such as accessing your direct deposits or doing mobile banking.
There is, however, a $3 monthly fee that cannot be waived, but you do get access to a Relationship Savings account for no extra charge.
Compare Checking Accounts
Chase Total Checking®HSBC Advance CheckingAsterisk-Free Checking®Chase Premier Plus CheckingSM
Savings Account Options
M&T Bank has a few selection of savings accounts, but if you apply for any of their checking accounts, you can automatically gain access to these accounts.
Relationship SavingsM&T Starter Savings
This savings account in particular is immediately accessible when you apply to any of M&T's checking accounts.
This account earns interest, and when paired with a checking account, it becomes an overdraft account.
If you choose to open this account alone, there's a service fee but you can waive it by keeping a balance of $500.
This savings account encourages those 18 years old or younger to start saving at an early age.
A parent or guardian is required in order to open it as they will have access to the account.
There are no monthly fees or minimum balances to worry about, so, teens can enjoy just saving their money without having to constantly deposit funds to keep their account open.
Teens will gain access to both online and mobile banking and an M&T ATM as well.
This account earns interest at a variable rate.
Compare Savings Accounts
Discover Online SavingsChase SavingsSMHSBC Direct SavingsUFB High Yield Savings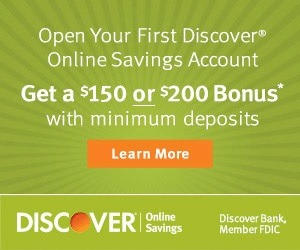 Open a Discover Online Savings Account for all these features:
• Bonus offer applies for your first Discover Online Savings Account
• Earn $200/$150 Bonus with promo code HMB819 by September 9, 2019
• Fund your first savings account with a minimum of $25K by September 23, 2019 to earn the $200 Bonus
• Fund your first savings account with a minimum of $15K by September 23, 2019 to earn the $150 Bonus
• Earn high interest rate of 2.00% APY
• No minimum opening deposit, no minimum balance requirement, and now no fees
• Interest on Discover Online Savings Accounts is compounded daily and credited monthly
• Manage your account online or with the Discover mobile app
• FDIC insurance up to $250,000




See advertiser website for full details


• Enjoy a $150 bonus when you open a new Chase SavingsSM account, deposit a total of $10,000 or more in new money within 20 business days, and maintain a $10,000 balance for 90 days
• Access to 16,000 Chase ATMs and nearly 5,000 branches
• Link this account to your Chase checking account for Overdraft Protection.
• Chase Mobile® app - Manage your accounts, deposit checks, transfer money and more -- all from your device.
• Apply online in minutes. Open your account online now.
• Available online nationwide except in Alaska, Hawaii and Puerto Rico. For branch locations, visit locator.chase.com.




• The UFB High Yield Savings Account offers up to 2.25% APY with interest compounded daily.
• The minimum deposit to open a UFB Direct High Yield Savings Account is only $100.
• This account features access to all of our free online banking tools, all with no monthly maintenance fees.
• FDIC insured to the maximum allowable limit - certificate number 35546.



Money Market Account Options
Money Market accounts allow for a higher yield and gives access to your funds with either checks or a bankcard. M&T Bank offers savings accounts that function as money markets, earning competitive interest rates.
M&T Money MarketMyChoice Money Market
This account doesn't have a monthly service fee nor a minimum balance requirement, but the interest earned is variable.
You also get checking writing privileges, but you are only allowed up to 6 withdrawals per cycle.
This account earns tiered interest rates depending on your balance amount.
If you have a MyChoice Premium Checking account, you will make 3 deposits each month.
You also can access your funds at participating M&T ATMS or at a branch.
Compare Money Market Accounts
Discover Money MarketBBVA Money MarketCIT Bank Money MarketHuntington Business Money Market
CD Account Options
M&T Bank offers CDs with terms from 32 days and 72 months, and you can only open them at your local branch.
To open a CD, you will need at least $1,000 in your new account.
To get promotional rates, the $1,000 must not be in a preexisting M&T account.
M&T also offers a very competitive rate for their 12-month and 24-month CDs.
Compare CD Accounts
Discover CDCIT Bank CDSynchrony Bank CDBBVA CD
Reasons to Bank with M&T Bank
It's rare nowadays that a traditional bank offers a free checking option with no monthly service fee or account minimum requirements.
You can receive M&T Bank alerts regarding your account in three ways: mobile app, email, or text message.
Deposit your checks via mobile app. You also get an extended time to do so. Checks that are deposited by 8 PM are considered a same day deposit. The funds' availability will be based on the standard requirements.
You can transfer your funds, pay bills, and view your account transactions on the mobile app. M&T Bank's mobile app is an extension of their online platform. This make it easier to bank no matter where you are and at any time of day or night.
Reasons Not to Bank with M&T Bank
If you tend to occasionally overdraft your checking account, you'll want to look elsewhere. The overdraft feest at M&T are higher than many other banks. They also charge an extended overdraft fee if you remain short on your account for five straight days.
M&T Bank is a regional bank, not a nationwide bank. You must live in Maryland, New Jersey, New York, Delaware, Connectticut, Virgina, West Virginia, Pennsylvania, or Washinggton, D.C. to open an account.
M&T Bank's interest rates can't compare with the online, high yield rates offered by many banks that don't have the overhead of a brick and mortar branch.
M&T Bank Routing Number
M&T Bank has three routing numbers. Your routing number corresponds to the state you opened your account in.
New York, New Jersey, and Connecticut: 022000046
Pennsylvania and Delaware: 031302955
Maryland, Virginia, West Virginia, and Washington DC: 052000113
Contact Customer Service
You can reach M&T Bank general service at 1-800-724-2440, Monday-Friday 6 AM – 9 PM ET, and 9 AM – 5 PM ET Saturday and Sunday.
If you have questions about online or mobile banking, call 1-800-790-9130, Monday – Friday 8 AM – 9 PM ET, and 9 AM – 5 PM ET Saturday and Sunday.
How M&T Bank Compares
KeyBank: They have a large selection of checking accounts that offer various benefits. They also have cash bonuses that can range in value from $100 to $500. However, like M&T Bank, they have high overdraft fees and their interest rates do leave a bit to be desired.
PNC Bank: PNC offers a lot of different account options along with fee-free features as well such as: no monthly service such as use of PNC Bank ATMs, FREE mobile/online banking, reimbursement of PNC fees for use of non-PNC ATMs, and many other features that can be found on their website.
Capital One 360: Capital One 360, you can bank fee-free with online and mobile checking that actually pays you back. Whether you're looking for one of their 40,000 fee-free ATMs or a Capital One location–chances are they are right nearby.
Bottom Line
Overall, if you want a free checking account that comes with easy access to your savings or even money market accounts, then consider banking with M&T Bank!
With all the free accounts they offer, this makes M&T a worthwhile choice for those who live near the upper East Coast region, but many can do banking online as well. Keep in mind that some features that are available in person may differ online however.
However, keep in mind that when you look for a checking or savings account be sure to look into all the fees charged. Don't focus on the interest rate alone, but on what the account will cost you overall.
If you're interested in banking with M&T Bank, see what they have to offer through M&T Bank Promotions! And while you're here on HMB, check our full list of Best Bank Promotions for more options!