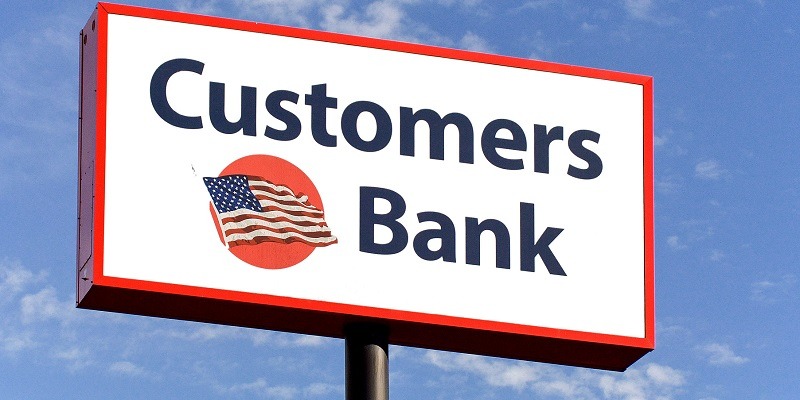 Customers Bank is a traditional bank with physical branches that offers high yield savings accounts. To find out if Customers Bank is right for you, continue reading the review below.
Customers Bank is a subsidiary of Customers Bancorp. They are a full service bank that provides a good amount of checking and savings accounts for any kind of person.
They even have a free checking account that has a low minimum opening deposit.
Checking Account Options
Customers Bank has a small selection of checking accounts, but they are all pretty affordable, having such low minimum requirements.
Convenience CheckingFree CheckingBonus Checking
You will need $10 to open this checking account.
There is a high monthly fee of $29, but you can waive it as long as you can keep a daily balance of $5,000 across all your accounts.
You also get access to over 40,000 Customers Bank ATM for free.
This checking account requires a $10 minimum opening deposit, but afterwards there are no other fees to worry about.
There are also no minimum balances to maintain.
You can open this account either online or at a physical branch.
You need $10 to open this account, but there are no monthly fees nor minimum balances to maintain afterwards.
This account earns interest if you keep at least $0.01–$100,000.
Compare Checking Accounts
Chase Total Checking®HSBC Advance CheckingAsterisk-Free Checking®Chase Premier Plus CheckingSM
Savings Account Options
Customers Bank offers one general savings account called Reserve Savings. With just a $10 minimum deposit, you can start earning interest.
There are no monthly fees nor minimum balance requirements to handle down the road either. However, the interest earned on this account is low.
Compare Savings Accounts
Discover Online SavingsChase SavingsSMAmerican Express® Personal SavingsUFB High Yield Savings
Money Market Account Options
Money Market accounts allow for a higher yield and gives access to your funds with either checks or a bankcard.
Customers Bank has two money markets that earn pretty competitive rates.
Ascent Money Market SavingsMoney Market Savings
With this money market savings account, you can grow money faster since the interest rates are tiered.
You will need at least $25,000 to open an account.
To earn interest, you will need to maintain at least a daily balance of $25,000.
You can only open this account online though.
This money market savings account earns decent interest at a tiered rate.
You will need a minimum deposit of $250,001 in order to open this account.
Compare Money Market Accounts
Discover Money MarketBBVA Money MarketCIT Bank Money MarketHuntington Business Money Market
Reasons to Bank with Customers Bank
They have very low minimum opening deposits.
They have a free checking account that doesn't require any monthly fees nor minimum balance requirements.
Every checking account gains you access to any of Customer Bank's 400,000 ATMs.
The Bonus Checking account earns pretty decent interest depending on your balance.
Their money market accounts earns a high APY when compared to other more known banks.
The BankMobile app allows customers to bank more conveniently.
Conduct all your banking online or through their convenient BankMobile app.
Reasons Not to Bank with Customers Bank
The online accounts aren't available in every state. People who live in Alaska, Hawaii, Arizona and New Mexico aren't able to access BankMobile.
Customers Bank only has about 24 physical branches. 13 located in New Jersey and New York, and 11 located in Pennsylvania.
The online savings accounts don't include ATM access.
The Ascent Money Market Savings account lacks check-writing privileges.
Customers Bank is not open on Saturday or Sunday.
Customers Bank

Routing Number
The routing number for Customers Bank is 031302971.
Contact Customer Service
You can reach Customers Bank at 866-476-2265.
They are available during these hours:
Monday – Friday, 9:00 a.m. – 5:00 p.m. EST
How

Customers Bank

Compares
Bottom Line
Customers Bank is pretty simplistic in its approaches, but what makes it convenient is how low most of their opening deposits are concerning both checking and savings accounts.
The BankMobile app is quite popular, so even if you don't live in the states that a physical Customers Bank is located in, most people prefer to utilize the app to do all their banking instead.
However, keep in mind that when you look for a checking or savings account be sure to look into all the fees charged. Don't focus on the interest rate alone, but on what the account will cost you overall.
If you're interested in banking with Customers Bank, apply today! For more options from a variety of banks, see our list of the best bank promotions!