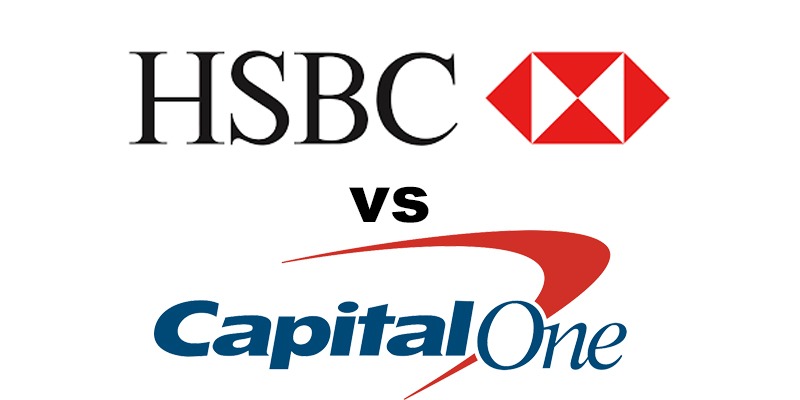 HSBC Bank is a large multi-national bank and offers several checking accounts for different needs.
HSBC Direct is the online banking operation and offers high interest savings for just a minimum deposit of a dollar with no service fees.
Comparatively, Capital One offers high interest rates without all the online fees, however it's not as high compared to other online banks.
They also offer convenience checking and savings under one roof.
Continue reading below for a more in-depth look for both HSBC Bank and Capital One. You can choose to see which one fits your needs the most.
HSBC Bank
Capital One
Locations
Over 240 branches on the East and West Coasts

HSBC Direct- Online only

Online based banking
ATMs
HSBC ATMs in U.S.; HSBC ATMS abroad may incur additional fees and foreign conversion rates.
Over 39,000 no-fee Capital One & Allpoint ATMs
Savings
5/5
3.5/5
CD
N/A
Checking
5/5
5/5
Money Market
N/A
4/5
Customer Service
4/5
4.5/5
Mobile App
N/A
4.5/5
Pros
-Global presence
-High online savings APY
-Overdraft protection options
-No account minimums
-27 Capital One cafes for in-person support
Cons
-Not in every state
-Low savings APY compared to other online banks
Bottom Line
HSBC offers a full array services like high-yield online savings and several checking options.
Capital One offers several banking products like checking and savings.
HSBC Bank Promotions
HSBC Advance checking accountHSBC Premier checking accountHSBC Direct Savings account
---
Capital One Promotions
---
Compare to Other Banks
---
---
Bottom Line
Which Bank is Better: HSBC or Capital One?
In summary:
For more variety of options, see our list of the best bank account bonuses & savings account offers.
More on HSBC:
More on Capital One: