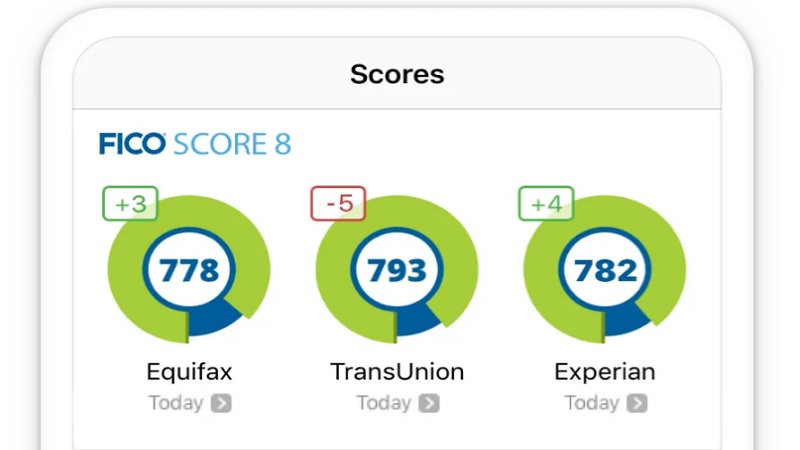 Credit history is an important thing when it comes to making large purchases, like a new house or car. MyFICO, the consumer division of FICO, helps to avoid any troublesome surprises by giving you access to your credit scores from all three reporting bureaus, along with alerts when there's activity on your credit report and more. Continue reading to learn more about MyFICO.
(Click here to learn more at MyFICO.com)
MyFICO.com Features
MyFICO.com has a vast amount of services to help not only you, but your family as well, from identity theft. They actively check your credit history and shows how you stack compared to the other top scorers. Additionally, it can show how your score affects things like interest rates and monthly payments.
(Click here to learn more at MyFICO.com)
Here are other key features of MyFICO.com's service:
Scores Customized to Your Goals
Creditors will use different criteria to determine eligibility for a home loan versus a car loan. MyFICO customizes your score according to your goal with up to 28 FICO score versions. This gives you the ultimate score accuracy based on the loan you want.
Credit Reports
Access your credit reports with ease and see all the factors that are affecting your credit. If you spot any errors in your credit history, you can dispute them.
Credit Monitoring
If MyFICO sees any changes to your credit scores or reports, they will let you know. If you choose a plan with identity monitoring, you will also be alerted if they detect any suspicious activity.
Identity Restoration
MyFICO provides $1 million in identity theft insurance, and they'll help you 24/7 to restore your identity in the event a criminal damages your credit. Lost wallet protection offers coverage for credit cards, debit cards, checkbooks, driver's licenses, Social Security cards, passports, military identification cards, traveler's checks and more.
Score Simulators
MyFICO offers a useful tool that shows how various activities may impact your credit scores and history. For example, you can see how your scores might look like if you were to take out a loan for a car or pay down debt. Use this tool to test specific scenarios and increase your knowledge of how credit scores work.
MyFICO.com Plans & Pricing
MyFICO.com has four plans to choose from, and they are each fairly affordable. Below is a breakdown of the four plans:
| | | | |
| --- | --- | --- | --- |
| | BASIC | ADVANCED | PREMIER |
| Pricing per month | $19.95 | $29.95 | $39.95 |
| Bureaus | Experian | All 3 | All 3 |
| Frequency of updates | Monthly | Quarterly | Monthly |
Each plan provides:
FICO scores
Credit reports and monitoring
$1 million in identity theft insurance
24/7 identity restoration services.
Furthermore, the Advanced and Premier plans come with identity monitoring too.
---
---
Bottom Line
If you are concerned about monitoring your credit, credit report, and your FICO scores, you may want to consider using MyFICO.com. They have plenty of features that are the same as other services, but at a great price.
Another great credit monitoring service that is free to use is CreditWise. Check them out if you need a similar service.
(Click here to learn more at MyFICO.com)