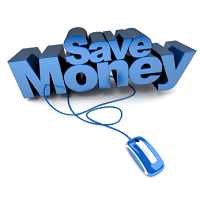 Below is my most updated list of all ways to Save Money Online. You'll find how to save money on various methods whether it's a cell phone bill, cable or internet bills, online shopping, getting a car loan or finding the best mortgage! Learn how to shop smartly and stretch your hard earned dollars. It's the culmination of years of writing on all of my methods to save you the most money!
Save Money Online: Bills, Utilities, Shopping
Offer
Savings
Terms
Expiration
Review
Amazon
10 ways to save money
Use Promo Codes. Sign up for memberships or programs.
None.

Review

Amex Gift Cards
Fee Waiver and Free Shipping Codes
Use Promo Codes
01/31/2017

Review

AutoSlash - Cheapest Way for Car Rentals
Best discount rate on car rentals.
None. No cancellation fees. Easy to use.
None

Review

Banana Republic
Up to 60% Off
Promo Codes and Discounts
None

Review

Best Lowe's Coupons
Up to 20% Off
Gift Cards + Coupons
None

Review

Comcast Internet Service
$9.95 Per Month Plan
Must be from low income family
None

Review

Free Credit Score
No Credit Card Required, No Membership.
Many options. Absolutely free!
None

Review

FreedomPop
100% Free Mobile Phone Service
None. No Contract, No Commitment, Cancel Anytime!
None

Review

How To Buy A Brand New Car
Cheapest Way To Buy A New Car
Follow the Steps
None

Review

Kroger
6 Ways to Save Money at Kroger
Plus Card, buy gift cards & fuel points.
None

Review

Lowe's or Home Depot
Up to 50% Off
Various Strategies
None

Review

Movie Tickets
7 Ways to Save Money at the Movies
Buy gift cards, Loyalty Memberships, Bulk Ticket Purchases, & Discount Prepaid Tickets
None

Review

myFICO Promo Codes
$10 Off Discount and More
Use Promo Codes
None

Review

Page Plus
$29.95/month No contract
1200 Minutes, 3000 Texts, 100 MB Data on Verizon Wireless
None

Review

PenFed Auto Loan
1.49% APR for New, Used, Refinance up to 60 Months
Simply join PenFed
None

Review

PenFed Home Equity Loan
1.99% APR for up to 60 Months
Simply join PenFed
None

Review

Raise.com Gift Cards Discounts
Great % discounts of gift cards
Click through Offers
None

Review

Republic Wireless
$19 Per Month Smartphone Plan
No contract!
None

Review

Sirius XM Radio Subscription
How To Get The Best Deal on Sirius XM Radio Subscription
Call Retention at 1-844-711-8800
None

Review

ShareBuilder
Free Automatic Trades
Simply enter codes
None

Review

Starbucks
5 Ways to Save Money at Starbucks
Buy gift cards, use gold card, & bring cup.
None

Review

Starbucks Money Saving Methods
Save up to 50% for all purchases at Starbucks
Buying gift cards, certificates, coupons, and registered card
None

Review

Student Prime
Mom Prime
Free Amazon Prime
Simply sign up
None

Review

Target
5 Ways to Save Money at Target
Stack coupons, buy gift cards & price match.
None

Review

Ten Ways to Earn Extra Cash
10 ways to earn extra cash
Simply sign up.
None

Review

Ten Ways to Make Money Online
10 ways to make money online
Surveys, sell, blogs, reviews
None

Review

Top 5 ways to save money on groceries
top 5 ways to save money on groceries
lists, sale items, coupons
None

Review

T-Mobile Family Plan
4 Lines for $100 Per Month Unlimited Talk, Text, 10 GB of 4G LTE Data
No contract!
None

Review

T-Mobile Prepaid
$30/month - Unlimited Text, 5GB Data*, 100 Voice Minutes
New activation only & choose the $30 plan during signup
None

Review

Virgin Mobile
Cheapest iPhone plan
No contract
None

Review

Walmart
6 Ways to Save Money at Walmart
Buy gift cards, use savings catcher app, & price match.
None

Review

Wireless Discounts for All Carriers
Employee/Student Discounts for AT&T, Verizon, T-Mobile, and Sprint
Must have employee or student email.
None

Review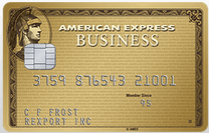 Business Gold Rewards Card from American Express OPEN offers 50,000 Membership Rewards® points after you spend $5,000 in purchases within the first 3 months following approval of your new Card account. You'll also enjoy 3X points (choose 1 out of 5 categories), 2X points on the 4 remaining categories, and 1X points on other purchases. Because of its many privileges, the Business Gold Rewards Card is considered to be the gold standard and targeted at business owners with excellent credit. Card holders can use points to entertain clients, reward employees, reduce travel costs, or just offset the everyday expenses of moving your business forward. There is a $0 introductory annual fee for the first year, then $175.

If you have a side business such as selling on eBay, Craigslist, or do freelance work, then your business is called sole proprietorship. Simply use your name as business ID and Social Security number as tax ID. Apply Now---

Business Gold Rewards Review



American Express is an advertising partner of HustlerMoneyBlog.