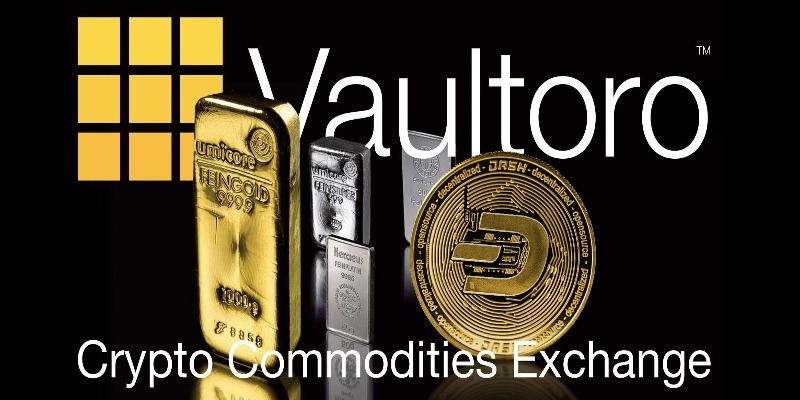 Check out the latest Vaultoro promotions, sign-up and referrals bonuses here.  
Vaultoro is an online exchange platform that allows users to buy and sell physical gold with bitcoin and other cryptos on a full order book exchange.
They offer only two trade types: Gold and Bitcoin. However, each trade type has two subdivisions: the market order and the pending order.
As of right now, Vaultoro is accessible via website, but there is a mobile app currently in progress. If you want to learn more about Vaultoro and how you can earn money, you can continue reading below. For additional deals like this, check out our website for more cryptocurrency and investment promotions.
---
Vaultoro Features
---
Vaultoro is an exchange platform that allows U.S. investors trade Bitcoin or Dash for gold. Vaultoro gold is 99.9% pure, received directly from smelting companies, stored in a high-security vault by ProAurum Switzerland, and audited by Binder Dijker Otte (BDO).
The company prides itself on their transparency, publicly displaying records that indicate which customers (their ID numbers) hold which quantities of gold and Bitcoin.
The "Glass Books Protocol" allows users to crosscheck Vaultoro's statements on holdings with audits. This information is available without needing to log in, so the company has no idea who is examining their statements.
Additional features of Vaultoro include:
Real-time trading between physical gold and bitcoin
Trade a minimum of 5 cents worth of bitcoin or gold
Gold is Audited and insured
Bitcoin holdings are publicly audited and help in multi-sig cold storage.
Gold is held in the customer's name so if something was to happen to vaultoro clients have full ownership and writes to their gold.
No need to verify your identity unless you want to deposit more than $5000 worth of bitcoin per day.
0.5% – 0.2% trading fees depending on traders 30 day volume.
All gold is Vaulted in professional bullion vaulting facility within Switzerland's duty-free zone.
---
Vaultoro Fees
Crypto / Crypto Trading Fee
Maker – FREE
Taker – 0.1%
Gold / Crypto Trading Fee
Maker – FREE
Taker – 0.5%
Gold Storage & Insurance Fee
0.40% of the relevant gold volume
(updated every 15 minutes)
BTC Withdrawal Fee
0.0005 BTC
DASH Withdrawal Fee
0.007 DASH
Gold Withdrawal Fee
(includes withdrawal, shipment & insurance)
EUR 130 – EUR 220 / 100 grams
(depends on Zone)
---
Vaultoro Deposit Methods
Vaultoro only accepts deposits in Bitcoin. Users can source Bitcoin from Coinbase using fiat currency, then head over to the Vaultoro website to generate the public key for the BTC wallet where you can transfer the BTC to so that you can start trading.
In the case thatyou haven't made any previous holdings of cryptocurrencies, you'll need to start by purchasing your BTC or DASH with an exchange that accepts deposits of fiat currency.
If you're looking for a fiat to crypto exchange then be sure to check out Coinbase and Gemini for some bonuses.
---
Current Vaultoro Promotions
---
20% of All Trading Fees Referral Bonus
When you register for a new Vaultoro account using a member's referral link, you'll also receive 20% of all trading fees paid by your referral for their two years and 5% of all trading fees paid by any second tier referrals.
You need to be a verified Vaultoro member to participate in the referral program. You're limited to one kilogram of free gold bullion, but there's no limit to how much you can earn from trading fees.
What you'll get: 20% of All Trading Fees Referral Bonus
Where it's available: Vaultoro referral link
How to earn it:

Send your referral link to your friends or family members
Make sure that they make over $100 in trades
Once they finish the qualification, both you and your referral will earn the half gram of gold.
(Visit the link above to learn more about Vaultoro, not a referral link)
---
---
Bottom Line
If you're interested on using Bitcoin or Dash for investing gold then you should definitely consider Vaultoro.  You can continue on learning more about bitcoins, you can check out past Cryptocurrency Promotions we've written! Sign up for an account to begin trading in BTC, DASH and gold, independently of any government-issued currencies and banks.
You can also check out our complete list for the best brokerage bonuses or read through our brokerage bonus archives for more options!