Chase Bank offers some of the best bank bonuses and credit card bonuses out there today.  You shouldn't wait to open a Chase Bank Checking account since there are thousands of branches all across the United States. Currently there are two Chase Bank Checking Account Bonus Coupons available. You will need to read the find print for all the terms and conditions. Don't get stuck with a fee which will eat away your bonus money.
---
Chase Coupon $200 Combo Bonus: Available for new Chase customers until 4/15/2015, the $200 Coupon available freely for a limited time only. For new Chase checking customers, you get $150 when you open a Chase Total Checking account with direct deposit and a $50 bonus for opening a Chase savings account with $5,000 or more in new money within 10 business days & maintain a $5,000 balance for 90 days. Print now ASAP! For further information, read my in-depth Chase $200 Coupon Review.
---
Chase Savings Coupon $175 Bonus for opening a Chase Savings when you deposit $15,000 within 10 business days of opening the account. As a Chase Savings account holder, you'll enjoy account alerts, automatic monthly transfers from checking to savings, online access to your accounts 24/7, use your savings account to help provide overdraft protection on your linked checking account for added peace of mind, and make transfers to your savings at any Chase ATM, online at chase.com, or even from your phone with Chase Mobile. The Bonus offer expires 4/23/2015. I explained in great details with my Chase $175 Savings Coupon Review.
---
Chase $200 Checking & $50 Savings Coupon available to for HMB's readers at no cost. Apply directly online or visit your Chase branch to open a Chase Premier Plus CheckingSM account with a $100 deposit, and set up direct deposit. Then open a Savings account with $5K deposit and get $250 total bonus. You'll then receive $250 into your new Chase checking account within 10 business days after Chase receive your initial direct deposit. You get access to 20,000+ Chase ATMs and 5,600 branches, 24/7 customer service, and complimentary Chase design checks and small safe deposit box. This offer expires 4/15/2015 and is available for new checking customers only. See the full Chase $250 Coupons combo Review.
Chase Coupons from eBay:
Apparently, many people are selling the Chase Coupons on Ebay that you can't find a direct link online. The Chase Coupons sell anywhere from $1 to as high as $50 for the biggest bonus. Where do eBay sellers get them from? Depending on the zip code, Chase send out direct promotion flyers by mail. This includes, but not limited to, the Chase $500 Premier Checking Coupon, Chase $200 Checking & $200 Savings Coupon Combo, Chase $200 Total Checking with NO Direct Deposit, Chase $175 Savings Coupon, Chase $150 Savings Coupon, and many more. The Ebay sellers will provide up to date instructions and requirements, so make sure to read carefully and buy only from sellers with high feedback.
Chase Credit Card Bonuses
Chase Ink Plus® Business Card offers 50,000 bonus points after you spend $5,000 in the first 3 months from account opening- that's $625 towards travel rewards. With Ink Plus, you have the cash flow flexibility with the choice to pay over time or pay in full. Cardholders earn 5X points per $1 on the first $50,000 spent annually at office supply stores, and on cellular phone, landline, internet, and cable TV services. They will also earn 2X points per $1 on the first $50,000 spent annually at gas stations and for hotel accommodations when purchased directly with the hotel. There is no foreign transaction fees and the employee cards are free. Chase has a 1:1 point transfer to participating travel programs with no transfer fees. Furthermore, you get 20% off travel redemption when booked through Ultimate Rewards. There is a $0 Intro Annual Fee for the first year, then $95.

If you have a side business such as selling on eBay, Craigslist, or do freelance work, then your business is called sole proprietorship. Simply use your name as business ID and Social Security number as tax ID. Apply Now---

Ink Plus Review
Chase Sapphire Preferred® Card offers 40,000 bonus points after you spend $4,000 in purchases within the first 3 months. With 40,000 bonus points, you can redeem for $500 towards airfare and hotel accommodations. You can earn an additional 5,000 bonus points after you add the first authorized user and make a purchase in the first 3 months from account opening. Earn 2x points on travel, 2x points on dining at restaurants, and 1 point per dollar on all other purchases. Your points go far since you get 20% off travel when redeemed thru Ultimate Rewards. All Chase Sapphire Preferred cardholders enjoy travel benefits and a direct access to a live adviser 24 hours a day. No foreign transaction fees, plus Chip and Signature enabled for international travel. The annual fee of $95 is waived for the first year of card ownership. Apply Now---

Chase Sapphire Preferred Review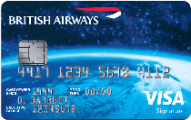 British Airways Visa Signature® Card offers 50,000 BONUS AVIOS after you make $2,000 in purchases in the first 3 months of account opening! Earn Avios with every purchase then use your bonus Avios towards rewards flights. No foreign transaction fee when you make purchases abroad. You will also get 2.5 Avios for every $1 spent on British Airways purchases and 1.25 Avios for every $1 spent on all other purchases. Every calendar year you make $30,000 in purchases on your British Airways Visa card, you'll earn a Travel Together Ticket good for two years. Chip with Signature Technology allows you to use your card for chip based purchases in Europe & beyond, while still giving you the ability to use your card as you do today at home. There is no annual fee for the first year, then $95 afterwards. Apply Now---

Chase British Airways Review
Marriott Rewards® Premier Credit Card from Chase is offering 50,000 Bonus Points after you spend $1,000 in your first 3 months and a free night stay from account opening. With every purchase you make, points are earned toward Marriott hotel stays, airline miles, Elite guest services and more. 5 points for each $1 spent at participating Marriott locations and 2 points for each $1 made at retail establishments (those classifying their merchant location for Visa as an airline, car rental agency, or type of dining establishment) are awarded. When the points add up, redeem them for discounted hotel stays, exchange for miles with your preferred airline frequent flyer program, shop online or purchase retail gift certificates, or even gift points to another member or donate to a charity. The possibilities are seemingly endless! There is an introductory annual fee of $0 the first year, then $85 afterward. Apply Now---

Full Review
Chase IHG® Rewards Club Select Credit Card offers 70,000 bonus points after you spend $1,000 in the first 3 months of account opening. One of the best hotel credit cards, you get a free night certificate that can be used at any IHG hotel every year. Award nights at IHG hotels range from 10,000 points up to 50,000 per night. Therefore, your 70,000 points can get up to 7 free nights at lower tier hotels such as the Holiday Inn and Holiday Inn Express. As a cardholder, you'll earn 5 points per $1 spent when you stay at IHG hotels, 2 points per $1 spent on purchases at gas stations, grocery stores, and restaurants, and 1 point per $1 spent on all other purchases. Enjoy all the amazing perks with a $0 introductory annual fee the first year, then $49 afterwards. Apply Now---

Chase IHG Rewards Club Card Review
United MileagePlus® Explorer Card offers 30,000 bonus miles after you spend $1,000 in the first 3 months. Enjoy bag check fees waivers for all cardmembers + one guest - a saving of up to $100 per round-trip. You get priority boarding privileges and visit the United Club with two one-time-use passes every year. There is no foreign transaction fees and you earn double miles on United ticket purchases, and 1 mile per $1 on all other purchases. There is a $0 intro annual fee for the first year, then $95. Apply Now---

United MileagePlus Review
Southwest Airlines Rapid Rewards® Premier Card offers 25,000 bonus points after you spend $1,000 in the first 3 months of opening your account. That's about $358 in Wanna Get Away Fares that can be redeemed for A ROUNDTRIP FLIGHT! For each dollar you spend, you earn one point from Southwest's newly revised Rapid Rewards program. Purchases from Southwest Airlines earn two points per dollar spent; these purchases can include hotels, car rentals, and vacation packages purchased through the Southwest website. You'll also receive 6,000 bonus points every year after your Cardmember Anniversary, which can be redeemed for a $100 Wanna Get Away Fare and can help offset your $99 annual fee. Start planning your trip to one of the 70+ destinations Southwest Airlines serves. Apply Now---

Chase Southwest Airlines Rapid Rewards® Premier Card Review
Chase Ink Cash® Business Card offers $200 cash back after you spend $3,000 in the first 3 months from account opening – one of the largest amounts ever offered for a business credit card. You'll receive 5% cash back on the first $25,000 spent annually at office supply stores, and on cellular phone, landline, internet, and cable TV services. The card also gives 2% cash rebate on the first $25,000 spent annually on gas and dining expenses, and 1% rebate on all other things. There is a 0% introductory APR for 12 months on purchases and balance transfers. Afterwards, the go-to APR of Regular APR: 13.24% (Variable). I personally prefer Ink Cash Business Card to the other Ink cards because you get cash back, generous cash rebates, and no annual fee for a business card!

If you have a side business such as selling on eBay, Craigslist, or do freelance work, then your business is called sole proprietorship. Simply use your name as business ID and Social Security number as tax ID. Apply Now---

Chase Ink Cash Business Review
Chase Freedom® offers a $100 cash back bonus for new cardholders that spend $500 during the first three months of membership. You'll earn an additional $25 bonus after you add your first authorized user and make a purchase within this same 3-month period. New members will also get 0% introductory APR on balance transfers and purchases for 15 months. Then regular APR: 13.99%-22.99% (Variable). This great cash rewards credit card is designed for those of you who want to earn easy cash back bonuses in return for your spending. Between 4/1/15 to 6/30/15, Cardholders can get 5% cash back on up to $1,500 in combined purchases at Restaurants, Bed Bath & Beyond®, H&M®, and Overstock.com®. For all other purchases, you'll earn unlimited 1% cash back. Best of all, there is no annual membership fee. Apply Now---

Chase Freedom $100 Bonus Review