While American Express is an advertising partner of HustlerMoneyBlog, the opinions and beliefs in this article are the author's alone and have not been reviewed, approved, or otherwise endorsed by the issuer.
American Express credit cards have many promotional bonus offers for those new seeking credit card applicants. Simply apply for a new Amex card and make the qualifying purchases to get the bonus offer. These Amex cards have no annual fee, therefore I highly recommend to apply in order to sync with your twitter account to take advantage for all future promotions.
Amex No Annual Fee Credit Cards:
These are great Amex cards to sign up for Twitter Sync Offers and Small Business Saturday which can be worth hundreds of dollars in free money per year! Don't forget about American Express Gift Cards for all no fees and free shipping promo codes. Make sure to take advantage of these new applicant bonus offers along with excellent card features and special benefits.
American Express Credit Card Promotional Bonuses
Blue Cash Preferred® Card from American Express offers $150 back in statement credits after spending $1,000 in purchases within the first 3 months of account opening. Cardholders earn 6% cash back at U.S. supermarkets(up to $6,000) and 1% after that, 3% cash back at U.S. gas stations and select U.S. department stores, and 1% cash back on all other eligible purchases. However, the Blue Cash Preferred comes with a $95 annual fee. With the 6% reward rate on qualifying groceries, a family really only needs to spend $25 a week on groceries to make up for the annual fee. Unlike the Chase Freedom or Discover, there is no rotating reward categories and no enrollment required. For a limited time offer (ends 5/3/2017) sign up for a new card membership and earn up to 10% cash back on U.S. restaurant purchases, up to $200 cash back. Apply Now---

Amex Blue Cash Preferred Review
Blue Cash Everyday® Card from American Express offers $100 back in statement credits after spending $1,000 in purchases within the first 3 months of account opening. Along with no annual fee, you'll get maximum cash back in the following categories: 3% U.S. supermarkets up to $6,000(then 1%), 2% U.S. gas stations & select U.S. department stores, and 1% other purchases. Apply by 5/3/17 – Earn 10% cash back on purchases at U.S. Restaurants in the first 6 months, up to $200 back. Apply Now---

Blue Cash Everyday Review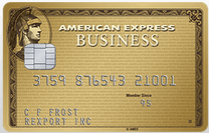 Business Gold Rewards Card from American Express OPEN offers 50,000 Membership Rewards® points after you spend $5,000 in purchases within the first 3 months following approval of your new Card account. You'll also enjoy 3X points (choose 1 out of 5 categories), 2X points on the 4 remaining categories, and 1X points on other purchases. Because of its many privileges, the Business Gold Rewards Card is considered to be the gold standard and targeted at business owners with excellent credit. Card holders can use points to entertain clients, reward employees, reduce travel costs, or just offset the everyday expenses of moving your business forward. There is a $0 introductory annual fee for the first year, then $175.

If you have a side business such as selling on eBay, Craigslist, or do freelance work, then your business is called sole proprietorship. Simply use your name as business ID and Social Security number as tax ID. Apply Now---

Business Gold Rewards Review
SimplyCash® Plus Business Credit Card from American Express offers $200 statement credit after spending $5,000 within the first 6 months of card membership. For a limited amount of time - you can earn an additional $200 statement credit if you spend $10,000 or more in qualifying purchases of card membership. It's similar to the SimplyCash Business Credit Card from American Express but with increased spending limits of $50,000 in the 5% and 3% cash back reward categories and an extra option to choose from in the customizable 3% category. It appeals to businesses with more expenses where more cash back rewards can be earned. Also included are fantastic exclusive American Express benefits and no annual fee. Apply Now---

Amex SimplyCash Plus Review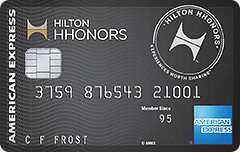 Hilton HonorsTM Surpass® Card from American Express is offering for a limited amount of time (Offer ends 5/31) 100,000 Hilton Honors points after spending $3,000 in purchases within the first three months of card membership. Not only will you be earning bonus points from the sign up bonus, but you can earn 12X bonus points for every $1 spent on eligible purchases at participating Hilton portfolio hotels and resorts, 6X bonus points for every $1 spent at restaurants, supermarkets, and gas stations in the U.S. and 3X bonus points for every other purchase made on the card. Unlike the regular Hilton Honors card, you'll automatically receive Gold status where you can earn 25% bonus points from base points. With all of these great benefits, you'll enjoy a $75 low annual fee. Apply Now---

Hilton Honors Surpass Review
Hilton HonorsTM Card from American Express is offering for a limited amount of time (Offer ends 5/31) 80,000 Hilton Honors Bonus Points after you spend $2,000 in purchases within your first 3 months of card membership. Your Hilton Honors points will quickly grow by earning 7 bonus points for every $1 spent on eligible purchases at participating Hilton portfolio hotels and resorts, 5 bonus points for every $1 spent at restaurants, supermarkets, and gas stations within the U.S. and 3 bonus points on all eligible purchases. Additionally, receive automatic Silver Status with your Hilton HHonors card where you will earn 15% bonus points from base points. Among great features of the Hilton Honors Card from American Express is $0 Annual Fee. Apply Now---

Hilton Honors Amex Review
Amex EveryDay® Preferred Credit Card from American Express offers 15,000 Membership Reward® points after you use your new Card to make $1,000 in purchases within the first 3 months. When using the Amex EveryDay Preferred Credit Card, card members earn 3x points at US supermarkets on up to $6,000 per year in purchases (then 1x), 2x points at US gas stations, and 1x points on other purchases. When you make 30 or more purchases with your Card in a billing period, American Express will give you 50% more points on those purchases less returns and credits. Enjoy great benefits with the more prestigious Amex card for an annual fee of $95. Apply Now---

Amex Everyday Preferred Review

Gold Delta SkyMiles® Credit Card from American Express offers 30,000 bonus miles after you make $1,000 in purchases on your new Card within your first 3 months and a $50 statement credit after you make a Delta purchase with your new Card within your first 3 months. The Gold Delta SkyMiles card comes with a few additional benefits such as one free checked bag per person in your reservation (up to 9 people), which can save you up to $50 per passenger, priority boarding, and 20% off certain in-flight purchases (movies, drinks, & meals). Also, you will earn 2 miles for every $1 you spend on Delta purchases and 1 mile for every dollar you charge for other eligible purchases. As an added perk, the annual fee of $95 is waived for the first year. Apply Now---

Amex Gold Delta Skymiles Review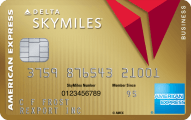 Gold Delta SkyMiles® Business Credit Card from American Express is offering 30,000 bonus miles after $1,000 in purchases on the card and a $50 statement credit after you make a Delta purchase with your new card within the first 3 months. What's the catch, you ask? There are none. You get two miles for every dollar you spend directly with Delta flights and 1 mile for every dollar spent for all other eligible purchases. The Gold Delta SkyMiles Business card comes with a few additional benefits such as one free checked bag per person in your reservation (up to 9 people), which can save you up to $50 per passenger, priority boarding, and 20% off certain in-flight purchases (movies, drinks, & meals). The miles can be redeemed for flights without seat restrictions and blackout dates. Best of all, receive all of this for a $0 introductory annual fee for the first year of Card Membership, then $95.

If you have a side business such as selling on eBay, Craigslist, or do freelance work, then your business is called sole proprietorship. Simply use your name as business ID and Social Security number as tax ID. Apply Now---

Gold Delta Skymiles Biz Review

Platinum Delta SkyMiles® Business Credit Card from American Express is offering 35,000 bonus miles and 5,000 Medallion® Qualification Miles (MQMs) after you spend $1,000 in purchases on your new Card in your first 3 months. In addition, earn a $100 statement credit after making a Delta purchase with your new Card within your first 3 months. The card gives you the chance to redeem perks such as upgrades to first class, priority boarding, and access to Delta Crown Room lounges after your first purchase on the card. For each dollar spent, you will earn 2X miles on Delta purchases and 1X miles for all other purchases. As if these incentives weren't enough, you get your first checked bag free, in-flight discounts, no foreign transaction fee, return protection, car rental insurance, and extended warranty! Finally, you can share the wealth with a complimentary domestic economy class companion certificate each year upon renewal with an annual fee of $195 per year.

If you have a side business such as selling on eBay, Craigslist, or do freelance work, then your business is called a sole proprietorship. Simply use your name as business ID and Social Security number as tax ID. Apply Now---

Platinum Delta Skymiles Biz Review
Starwood Preferred Guest® Credit Card from American Express is offering for a limited amount of time (Offer ends 4/5) 35,000 Bonus Starpoints®. You will earn 25,000 Bonus Starpoints® after you use your new Card to make $3,000 in purchases within the first 3 months and earn an extra 10,000 Bonus Starpoints® when you make an additional $2,000 in purchases within the first 6 months of card membership. Terms Apply. You can redeem Starpoints at over 1,300 hotels and 150 airlines with SPG Flights with no blackout dates. New benefits include no foreign transaction fees, free in-room premium internet access, and unlimited Boingo Wi-Fi at more than 1,000,000 Boingo hotspots worldwide. Voted a Travel Editor's Choice for Best Travel Rewards Card for domestic use, you earn up to 2 Starpoints for each dollar of eligible purchases charged directly with hotels and resorts participating in the Starwood Preferred Guest program and 1 Starpoint for all other purchases. No limits on the number of Starpoints you can earn, there is a $0 introductory annual fee for the first year, then $95. Apply Now---

Starwood Preferred Guest Review
Starwood Preferred Guest® Business Credit Card from American Express offers for a limited amount of time (Offer ends 4/5) 35,000 Bonus Starpoints®. Earn 25,000 Bonus Starpoints® after you use your new Card to make $5,000 in purchases within the first 3 months and an earn an extra 10,000 Bonus Starpoints® when you spend an additional $3,000 within the first 6 months of card membership. Terms Apply. New benefits include no foreign transaction fees, free in-room premium internet access, and unlimited Boingo Wi-Fi at more than 1,000,000 Boingo hotspots worldwide. It's an ideal card for small business owners that do not keep a revolving balance and stay at Starwood Hotels frequently. Earn up to 2 Starpoints per $1 spent on Starwood purchases and 1 Starpoint per $1 spent on anything else. Redeem your Starpoints for free hotel stays, free flights or even transfer to your airline frequent flyer program on a 1:1 basis. Additionally, members enjoy ongoing savings with FedEx, Hertz, and more just by using your business card. The $95 annual fee is waived for the first year. Apply Now---

Starwood Preferred Guest Business Review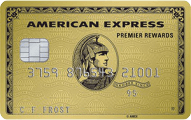 Premier Rewards Gold Card from American Express offers 25,000 membership rewards® points for spending $2,000 within the first 3 months of card membership. You can now get up to $100 a year for incidental fees with your selected airline. Cardholders earn 3X points for flights booked directly with airlines, 2X points at US gas stations, US supermarkets and U.S. restaurants, 1X points on other purchases. You can use points for gift cards for dining, entertainment, and to shop over 500 of some of your favorite brands. There is a $0 introductory annual fee for the first year, then $195! Apply Now---

Premier Rewards Gold Review
Platinum Card® from American Express gives 40,000 Membership Rewards bonus points after you spend $3,000 in first 3 months of card issuance. You'll also get $200 Airline Fee Credit- up to $200 a year in baggage fees and more at one airline. The card is, without a doubt, the premier charge card for the frequent traveler who revels in the prestige and luxury the name affords. Once your points accumulate unlimited, use them whenever you're ready because there is no expiration date. Pay with points for travel- fly anytime, anywhere with no blackout dates or restrictions, or shop online on their website. There are no foreign transaction fees with purchases made on your Platinum Card. Finally, Platinum Card Concierge is your personal resource to help secure a last minute restaurant reservation, or shop for a hard-to-find gift. However, there is an annual fee of $450. Apply Now---

Amex Platinum Review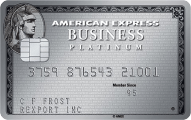 The Business Platinum® Card from American Express OPEN offers 50,000 Membership Rewards® points after you spend $10,000 in the first three months of Card membership. For a limited time you can earn an additional 25,000 Membership Rewards® points when you spend an additional $10,000 within 3 months. This offer allows you to earn a total of 75,000 Membership Rewards® points. You'll also get benefits including up to $200 in statement credits per calendar year on a selected airline for incidentals. It also features a rewards program with award-winning features designed to help your business excel. Every time you use your charge card, you can earn valuable rewards that can be redeemed to help offset business expenses. You earn 1.5X points for every dollar you spend on on eligible purchases and 2X points for every dollar you spend with American Express Travel on eligible purchases. Enjoy premium benefits include world-class platinum service, travel benefits, rewards that can help reduce expenses and access to one-of-a-kind events.

If you have a side business such as selling on eBay, Craigslist, or do freelance work, then your business is called sole proprietorship. Simply use your name as business ID and Social Security number as tax ID. Apply Now---

Amex The Business Platinum Review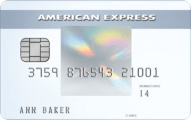 Amex EveryDay® Credit Card from American Express offers 10,000 Membership Rewards® points when you spend $1,000 within the first 3 months of opening your account. You'll earn 2 Membership Rewards points for every dollar spent at US supermarkets(up to $6,000 per year) and 1x points on other purchases. Also earn 20 more purchases with your Card in a billing period and earn 20% more points on those purchases less returns and credits. The card has smart-chip technology and the ability to track your purchases on the AmEx Mobile app. There is no annual fee! Apply Now---

Amex Everyday Review




Blue for Business® Credit Card by American Express offers 10,000 points after making your first purchase on the Card within your first 3 months of Card Membership. Then earn an additional 15,000 points after you spend $5,000 in purchases on the Card, in the first 6 months of Card Membership. You earn 2 points for each dollar of eligible purchases made when you book on the American Express Travel website and 1 point per dollar spent on eligible purchases. Simply use the points to reinvest in your business and reward your employees and clients. Choose rewards from over 500 leading brands in travel, gift cards, merchandise or entertainment. There is no annual fee. If you are a business owner who's looking for the right business credit card, sign up for this excellent business rewards card from American Express. Apply Now---

Amex Blue for Business Review